This is where it all starts. Inspection, deburring and on a granite surface block to check critical dimensions.
Line boring is done in-house on a custom machine. The block is mounted on pins. A large 1.75" diameter boring bar with close bearing supports insures true bore accuracy to .0001".
Shown here the same machine is used for the secondary operation to cut the thrust washer recess which is done without the caps in place.
The crank is fitted. The crank has 74mm stroke. But other strokes are available. 10 hollow pins align the bedplate caps by an interference fit. The two case halves are sealed with an o-ring eliminating the need for sealant.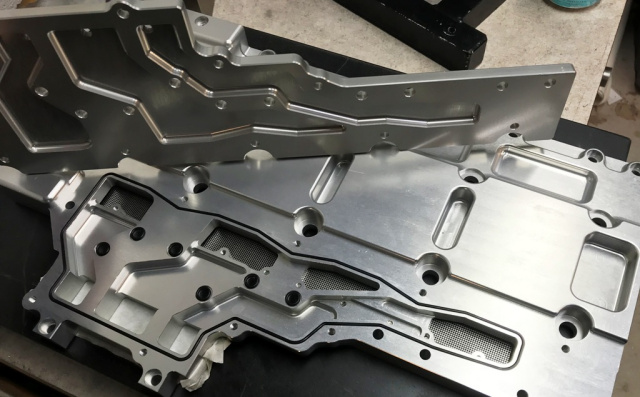 The bedplate caps are completed by a "sump" cover plate with "ant-hill" passages for the manifolding of the oil pump.
A custom high flow water pump is added to the end of a 5 stage Dailey oil pump. One stage is an air/oil separator.
>> CLICK HERE TO CONTINUE TO PAGE 3 OF THE BUILD